Since the tile was also finished upstairs we were able to start on the master bathroom. Step one was to put in the medicine cabinet that had been floating around the house for the past year. We actually purchased all of the bathroom furniture well in advance of actually needing it, trying to take advantage of sales. It was a miracle nothing was broken!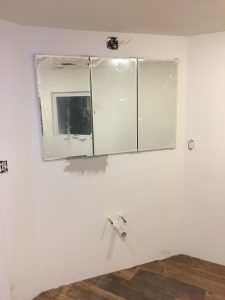 With the easiest part of the whole process done with we then put in the pocket door. I love pocket doors. They go into the wall, you don't have to worry about where a door will swing, and they're just neat. Like the half bathroom, we needed door molding to butt up against with the tile, so this had to be done first.
We opted for a simple white subway tile. Whenever possible we opted for a timeless look so that as trends come and go we'll always seem fine. In theory, anyway. We planned for a separate shower stall and tub. I was keen on getting a clawfoot tub to keep with the Victorian theme of the house but climbing in and out of it to shower is annoying, and now we had the space, so we put in a shower stall.
At this point it was nice to stand back and admire how far it had come.
Finally do the tile in the shower stall…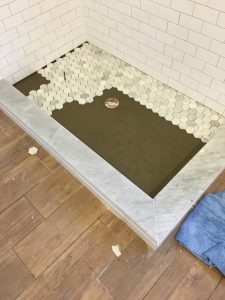 And voila.
We put in a nice piece of marble under the window to match the base of the shower stall. As you may have noticed in other pictures we played around a bit with what colors to used but ultimately decided on a calm blue for the room.
Now came the hardest part. We were nervous about trying to figure out the shower glass on our own so I had a company give me an estimate. Since I was a bit adverse about paying $6800 we decided to give it a try ourselves. Luckily, we were about to Buy Our Own and give it a whirl for a fraction of the cost. Keep in mind that each of these pieces of glass weighs a TON so be prepared to curse a lot. On top of that, balance is critically important so there is a lot of minute adjustments to be made while the other person is holding said glass. Not fun.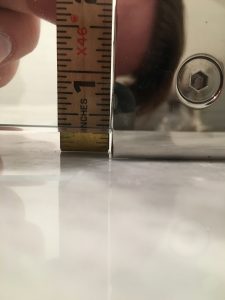 Once THAT was done, we simply had to put on the outlet cover, pop the sink in the vanity, and we've got ourselves a master bathroom!
And finished!