It took a few months but all of the plaster and lathe is out and the house is down to the frame. I wish I could call this the midpoint but it's the beginning of an even longer and more difficult process: putting it all back together. Not to mention all of the structural demolition that has to be done in order to make some changes. Why not take a quick refresh before we go forward with the Grand Before Tour?
Back? Okay, let's take a look:
The Foyer:
The Living Room (watch your step!)
The Dining Room (former Formal Living Room). We decided that the original dining room was too small and buying a second set of furniture for a room we wouldn't spend time in would be silly, so now we have a big dining room and a direct door to the kitchen from it.
"The Study" or at least that's what we're calling it. The former dining room will be a room I fill up with books.
The Kitchen (this is the new door, where the former walk in pantry was).
Upstairs. The stairs, landing at the top, and hallway.
Archway Bedroom.
Creepy Doll Room. Just isn't as creepy anymore. Oh well. The closet and breezeway were removed making the room 4′ wider. A great change.
Large Bedroom #1
Large Bedroom #2
Bathroom. This doorway was a closet. The back bedroom was totally removed since it was too small to be a comfortable room.
The Attic. Well… there wasn't much up here to begin with.
Looking at the Main Staircase
Basement stairs.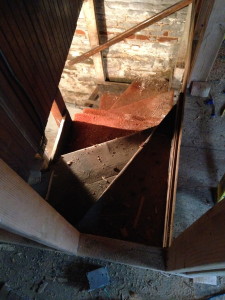 Back stairs.