Since I was tired of worrying about people tripping out the back door and going right over the edge of the porch I figured it was time to finally finish the back porch. My wife trusted me with going to the store and picking out something nice. I guess since it was outside and the backyard I could be trusted.
Most of the railings were either square and boring or curved and too modern. When I was going to leave I spotted this railing, which was actually used to go around the ordering computer for the railing department. Sneaky. I liked the turned look, it was PVC so it would never need maintenance aside from a hosing off so it was perfect! Besides, how hard could it be?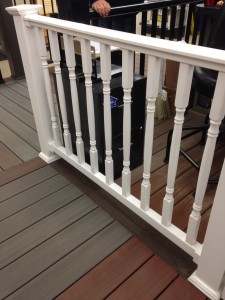 Crap.
Well, once we figured out what was what, it actually wasn't that bad. Well, the straight section wasn't anyway. The pole that's there wasn't the same as the set (since we installed it forever ago and I picked it up at Home Depot), so that was a little tricky when it came time to mount the steps.
We decided that mounting the bottom to the concrete would provide a more stable base for the railing than just screwing it into the bottom step. This required a little bit more work but I found the result both aesthetically pleasing and structurally sound.
Getting all of the balusters lined up along with the proper angle for the separate pieces turned out to be a huge pain but we eventually got it. There was much cursing and redoing involved, but we never screwed anything in until we were absolutely sure so everything looked perfect in the end.
Three more trips to the store and I actually had everything I needed and we finished it off. Came out pretty great! And don't we look proud standing there.