So as you can see in the Before Tour the main staircase is pretty ornate, as Victorian houses are wont to do. In the case of this house the stairs are located on a bump out off the side of the house, making them exposed to the outside on every side, meaning they have a propensity to be cold and drafty.
Since we're insulating the house we had to rip off the landing and get to the boards underneath. I thought this area was particularly important to insulate but it still felt kind of crappy ripping them apart.
Inside, to my surprise, was six garbage bags full of wet sawdust. In an effort to do their own insulation they ended up creating a real mess. It was moldy, musty, and generally awful. It took forever to clean out.
All clean!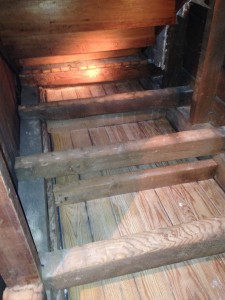 I was about to throw this away but my dad fished it out and held it up to the light. We have no idea WHY it was in there but a cool find nonetheless.