This post picks up right where the Archyway replacement and The Attic leave off. Now that the arches were out of the way we were free to finish up the bedroom and move on to the rest of the second floor.
Now that the new wall was in place we built a secondary support wall in the bedroom across the hall so that we could replace the floor in the hallway and then put up a new wall.
Things got a bit tricky around the chimney. We had to keep the floor in the upper stair landing intact since it was the foyer ceiling. Luckily, some of the messed up parts were behind the fireplace or the trim, so, we were able to fix and support.
Once the floor was done the new wall was framed out, complete with pocket door space.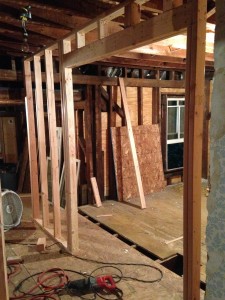 And then back to floors.
Whew! Now back to doing walls and other miscellaneous stuff.
It's more or less finished up there. Just about every single old wall was replaced. The bathroom still has to be framed out but there's plenty of other stuff in the meantime.