From the first time we looked at the house we all wondered what was inside "the doghouse with no door" just off the back porch. Curiosity got the better of us one day so off it came.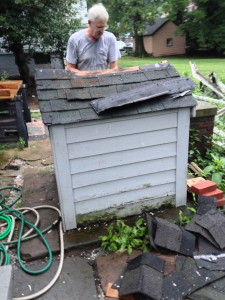 Lo and behold inside was… nothing. How exciting.
But what was this? It wasn't just resting on the slate patio, it was resting over something. Something large and hollow.
It was… a well. An incredibly old stone well that supplied water to the house before plumbing was en vogue.
The water was around twelve feet down from the top and the water itself was over thirty feet deep. If you happened to fall in there you wouldn't have the clearance to turn around and get upright, it was that tight. I stared down into the abyss and it stared back into me.
The Ring ruined wells for me so nothing a little bit of lumber and Trex couldn't fix.