Looking at the back of the house it's easy to see how the roof could begin to rot/mold. There are a ton of trees less than ten feet from the house with their branches hanging over the back roof. That's a no-no. Not to mention that mutant bush on the left there.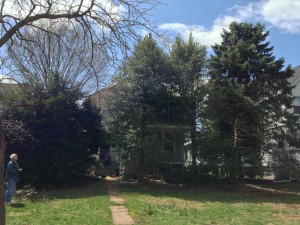 So with the help of my trust axe, I got to work…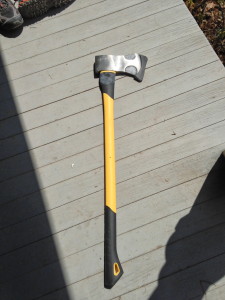 Kidding, totally chainsaw time. My dad did no deem me competent enough to use it on my own… plus I think he enjoys it a lot.
Our neighbor informed us that this tree was hit my lightning and fell some time prior to our buying it. What a disaster of a tree.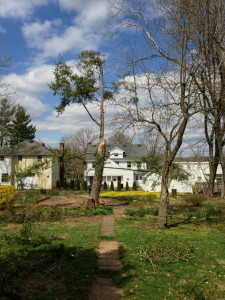 Told you he enjoyed chainsawing things.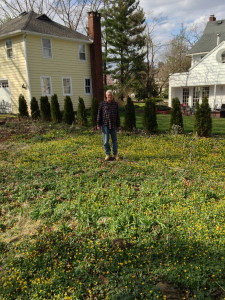 I had the distinct pleasure of dragging everything out to the curb. Luckily, our new town has Tuesday pickups of tree and plant debris, no limit. Mwahaha!
Looking a little more open now!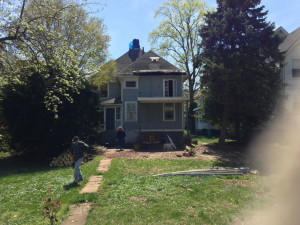 What a disaster of a tree, who knows what happened to it.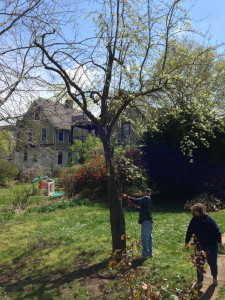 Took some time to smell the flowers (chainsaw broke).
Back to work! This tree was leaning precariously over our neighbor's house. The higher we cut the branches off the more it went.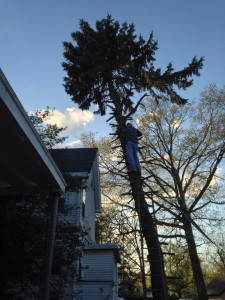 So we set up a huge pulley system to get it to lean the correct way as we cut it.
And that was that. Very long trunk on this one!
MUCH better now! (This picture is from the back porch removal process HERE)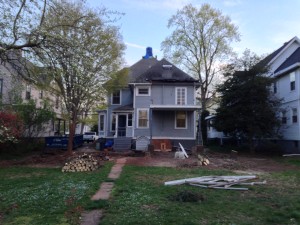 Leaving us with plenty of firewood…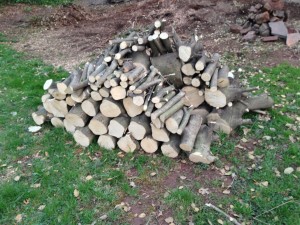 And the township with plenty of work!
I also found a huge number of boulders buried near all of the trees. Those were fun to move.
And I took some time to spruce up the front bushes a bit. They still look like crap, just not overgrown crap.